Top 10 instagram fitness models. You have probably been inspired and in awe by some personal fitness trainers on social media who share their photos of videos of themselves doing awesome yoga poses or fitness routines.
Check Out How To Get Rid Of Pimples In Summer
Instagram is a great way to find inspiration and is highly recommended to showcase what you do. We have put a list together of the most influential personal trainers on Instagram who have the most followers for you to get inspiration.
The secret of their success
When you look at personal trainers who have become successful thanks to taking advantage of the enormous opportunities offered by social media networks, you will see that they all follow certain rules. What they each have in common is that they present their health and fitness tips and advice in the form of videos and manage to attract followers and subscribers in their hundreds of thousands just within their particular discipline. They provide web users with a very useful way of getting involved in sport and exercise as it allows the latter to save both time and money.
The top 5 stars of personal training on Instagram
1/Dwayne "The Rock" Johnson
The Rock is known not only for his larger than life personality but for his larger than life muscles. This fitness superstar has gained a tremendous fan base from his notable acting and wrestling careers. Many don't know this but Johnson pursued a career in the NFL before he found his claim to fame. Being the 6th most followed person on Instagram with 123 million followers, The Rock uses his platform to share some of his best workouts, massive meals, and super cute pictures of his family.
2/ Kayla Itsines
Topping the chart is Kayla Itsines, with 6.5 million followers. Internationally famous, she is a genuine leading light in the world of fitness. Before becoming the queen of Instagram, she first made her name as a fitness instructor in Australia. She has built up her very own empire based on the diverse range of exercise and fitness programmes she offers. One of these is Bikini Body Guide (BBG) / Sweat With Kayla, a well-known programme that has enabled thousands of women to shape their bodies in just a few months.
3/ Thibaut
Thibaut is a 23-year-old Frenchman who originally comes from Toulouse. He is famous for his tips and advice that he shares about muscle building and nutrition. He currently has more than one million Instagram followers. Additionally, he has his own YouTube channel. What makes him stand out is the way he uses humor to ensure he gets his message across properly when providing his tips and advice. He posts everyday on the topics of training, bulking and nutrition. Increasingly famous, he has become a true source of inspiration for large numbers of men, as well as quite a few women.
4/ Jen Selter
Famous for her booty, this young American woman is well-known for having the world's most beautiful butt. Jen has clocked up more than one million followers. Her programme is mainly based around developing and toning the legs, stomach and buttocks. She considers the squat to be the best exercise for women who want to tone their buttocks or increase the muscular strength in their legs. As part of her approach to this, she demonstrates various forms of the exercise in her training sessions.
5/ Izabel Goulart
Another star name is Izabel Goulart, who is followed by more than three million people on Instagram. When she's not busy strutting the catwalk, she's providing fitness advice. She demonstrates highly rigorous and strenuous forms of exercise designed to help tone the body on Instagram. Because everyone would like to look like her, she acts as a source of genuine inspiration.
6/UlissesWorld
Ulisses Jr is the bodybuilder of all bodybuilders! He has a career that has spanned over 20 years and has earned himself the titles 2x Musclemania SuperBody Pro Champion, 2x Musclemania World Pro Champion, and so many more. Ulisses shares his expertise with other bodybuilders who strive to reach his level of success. He shares updates and workouts with his 5.8 million followers pretty much every day.
The Best Party Beauty Looks From The Catwalk
7/ Jeanette Jenkins
Finally, and last but not least, there is Jeanette Jenkins, with her 400,000 followers. Hollywood stars turn to her for help and advice. Pink and Kelly Rowland are just some of the famous names she has trained or to whom she has delivered training sessions. Because she is also a dietitian, she is famous for having a programme based on healthy eating.
There are obviously more awesome personal trainers out there who have great Instagram feeds for inspiration. Maybe you'll be a part of them soon! If you are looking for other social media channels to use, you can have a look over here to get more information.
8/Robin Arzón
Robin Arzón is a badass city slicker based in New York City. This former lawyer left her corporate position in order to pursue a career in fitness coaching. Her acclaimed book, Shut Up And Run, topped the New York Times Bestseller's list shortly after being released in May, 2016. The book features motivation to get running, and provides step-by-step guidance for all fitness levels, from beginner to pro. She's a successful brand ambassador, a motivational coach and speaker, a fitness model and an indoor cycling instructor. Whoa! This girl has accomplished a lot. She also famously ran 130 miles in 5 days to raise money for MS research. That's a lot of miles!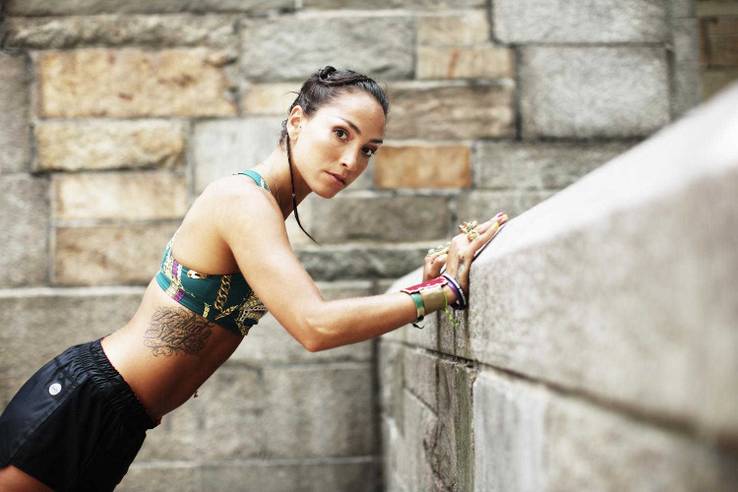 The running regent has spent most of her fitness career coaching athletes, and considers herself a master-marathoner. Her cute, urban style and champion attitude makes us want to jet off to NYC and meet her for a run along the Hudson River!
9/Mary Helen Bowers
Mary Helen Bowers is a professional ballerina and founder of the online "Ballet Beautiful" courses. This dancing queen reached the peak of her career when she trained Acadamy Award winner Natalie Portman for her role in Black Swan. Mary Helen also keeps many Victoria's Secret models in tip top shape with personal dance coaching.
Her approach to starting a new fitness routine? Just jump in and don't focus too much on how much work you need to do. Enjoy the process and you will be more successful. Her dance videos are aimed at those who don't really enjoy the grind of the gym, and prefer more artistic ways of exercising. She also credits her fab physique to her healthy diet. Her mantra is to eat what feels right for your body. The 37-year-old looks fantastic; it's no wonder she bounced back to her ballet body effortlessly after giving birth in 2015. She continued to dance until she was 39 weeks pregnant!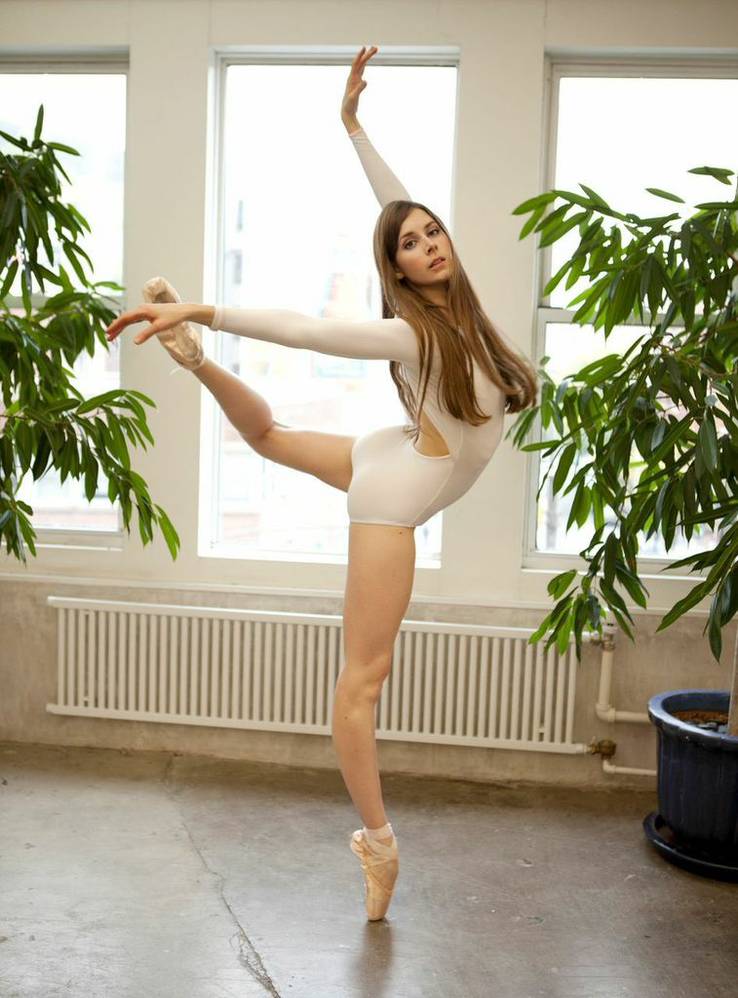 10/Chelsey Corus
Chelsey Corus is a master yogi who has been practicing different forms of yoga from the age of 15. She has a background in Ashtanga yoga, Power Vinyasa and AcroYoga. This athletic babe is also a pro martial artist and ballet dancer. Chelsey holds three degrees in Dance, Theater and Vocal Performance, proving that she is a power house of artistic and creative talent. Her physical strength is inspirational, but what really makes Chelsey shine is her down-to-Earth personality and selfless desire to help people tap into their spiritual side.
This Minnesota native integrates fitness into daily life; in a given week she keeps active by running, surfing, dancing, doing Pilates and of course, practicing yoga. Proof that health is a full-time commitment, Chelsey reminds us that having fun and staying active can go hand in hand! We definitely approve of her rocking yoga bod.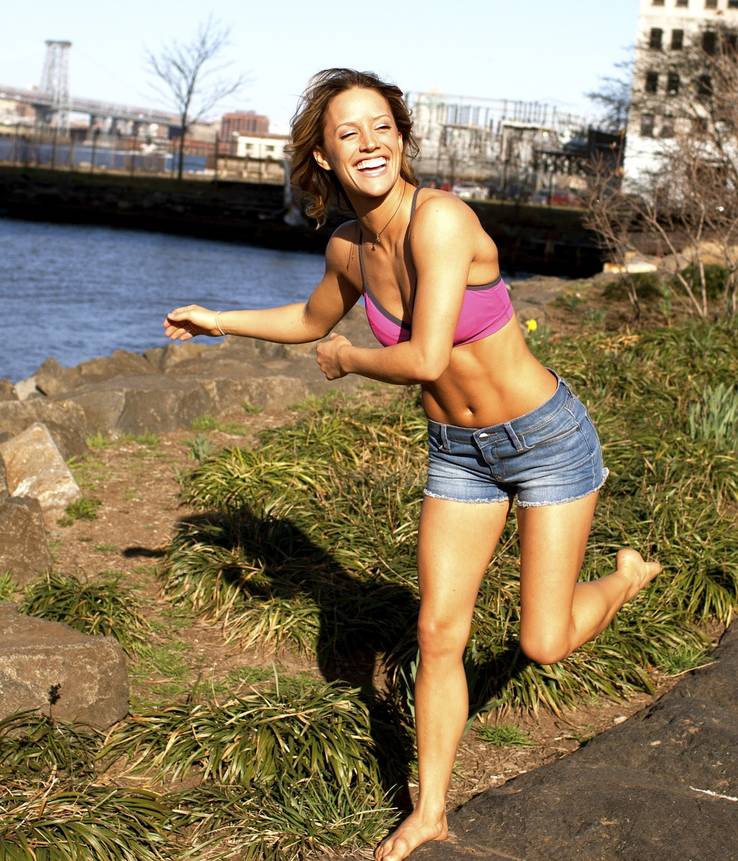 Also Check Out 6 Celebrity Make-Up Artists Share Their Favorite Highlighters Of All Time